Monday 9:00am - 5:30pm
Tuesday 9:00am - 5:30pm
Wednesday 9:00am - 5:30pm
Thursday 9:00am - 5:30pm
Friday 9:00am - 9:00pm
Saturday 9:00am - 5:00pm
Sunday 11:00am - 5:00pm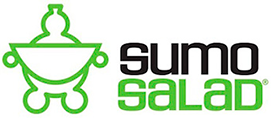 Don't let the name fool you! Sumo Salad doesn't think of salad as a mere side. It's a meal. Not only do they offer a huge range of amazingly delicious gourmet salads, but you can chow down on delicious Sumo bowls, wraps, rolls, toasties, pasta, soup, fruit salad and yoghurt, coffee and loads of fantastic extra tasty Sumo Salad specialty items.
Sumo Salad guarantee to satisfy every tastebud, so if you don't like what's on our menu, then design your own! Their products are sourced daily from Aussie farmers to bring you the freshest ingredients ever. Sumo Salad scorns unnecessary fats, nasty artificial colours, flavours or genetically modified products so that you know you're getting the best from us…that's the Sumo Salad guarantee!