Monday 9:00am - 5:30pm
Tuesday 9:00am - 5:30pm
Wednesday 9:00am - 5:30pm
Thursday 9:00am - 5:30pm
Friday 9:00am - 9:00pm
Saturday 9:00am - 5:00pm
Sunday 11:00am - 5:00pm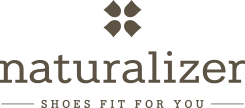 Discover Our Range Of Stylish Shoes For Women with Naturalizer Today! Naturalizer's range of ladies shoes have been designed with the modern woman's lifestyle in mind for over 90 years. We truly believe we offer women exceptional comfort without compromising on style across all of our women's shoes. No matter whether you buy shoes online or in store, each will prove timeless in style and provide all day comfort thanks to extra cushioning, breathable linings, additional balance, flexible soles and lightweight material. Browse today and feel confident that when you buy shoes with Naturalizer.
Naturalizer continuously revolutionise the women's shoe market. We have taken the time to understand the modern woman, and therefore know all too well the value in practical, stylish shoes for women that take her effortlessly from day into night.