Monday 9:00am - 5:30pm
Tuesday 9:00am - 5:30pm
Wednesday 9:00am - 5:30pm
Thursday 9:00am - 5:30pm
Friday 9:00am - 9:00pm
Saturday 9:00am - 5:00pm
Sunday 11:00am - 5:00pm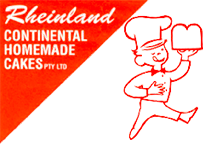 At Rheinland Bakery we pride ourselves in quality products and good prices. With the bakery products being made around the clock freshness is never an issue. Our team of quality bakers, work together to offer you a massive variety of savoury pies and pasties, breads, slices, donuts not to mention our range of decadent cream cakes. And for that family get together or a birthday celebration, come in and have a look at our range of tortes, cheesecakes and specialty cakes. If you are looking for a sweet fix, or a quick bite for lunch, come in and let our friendly staff, spoil you with a freshly made organic blend latte, or cappuccino, a great way to kick start the day, or to take a break between a shopping spree.