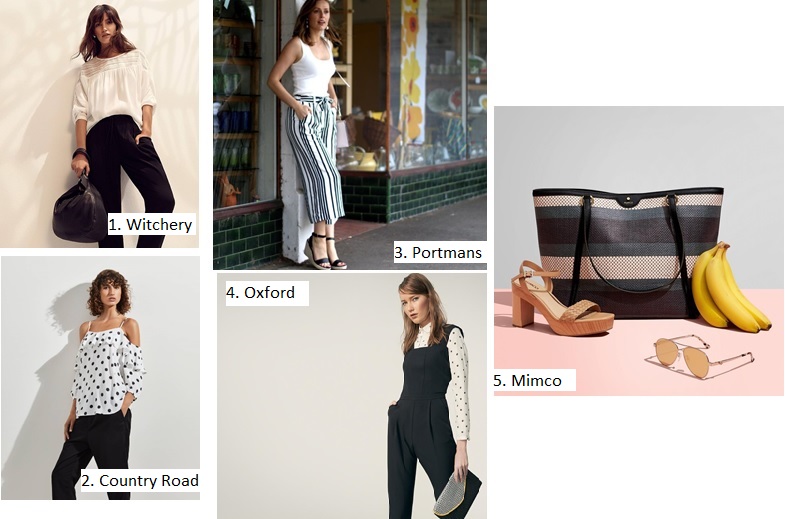 Workwear doesn't have to be boring! Rundle Place is home to everything you need to head back to work this month, with versatile summer tops, pants and totes, and amazing outfits to mix up your standard office wardrobe.
Finding appropriate workwear that suits the warm weather can sometimes be a challenge - you want to look professional while also keeping cool. Short skirts and strappy tops aren't always an appropriate choice, so think flowy shirts, cropped pants and knee-length skirts and dresses.
We're loving flowy printed pants and tops this season, matched with the perfect bag to store everything you need to work your best! Top it off with cute shoes and statement sunnies for the perfect work outfit that will keep you cool in the sun while also looking smart.
We've rounded up some of our favourite picks to brighten your work day and get you inspired!
1.YOUR WORK DAY SORTED The weather might be a little unpredictable at the moment, but if there's one thing you can rely on, it's the perfect work outfit! Witchery has you sorted with all things smart - tailored pants, simple shirts and perfectly sized bags to store everything you need to get through the day.
TOP IT OFF The perfect top is one that is professional but also fun - meaning you can wear it to the office, as well as to dinner or drinks. This super cute top from Country Road is our new summer staple! Try it paired with tailored pants or a simple black shirt.

THE SUMMER PANT Wearing pants in summer can be hard work, but these triped culottes from Portmans are the perfect pair for a warm day, keeping you cool while looking amazing! We love them paired with cute wedges to keep your feet happy all day long!

THE TAILORED JUMPSUIT Mix up your standard office wardrobe with a tailored jumpsuit from Oxford - perfect paired with a printed shirt and cute clutch. this black number is super versatile too, mix and match your shirts and bags for an entirely new look!

THE FINISHING TOUCHES All your workday accessories are sorted at Mimco, with amazing totes, cute summer shoes and sunnies to top off any outfit. A patterned tote looks amazing with a simple outfit, and block heels are the comfy choice for a full day at work.