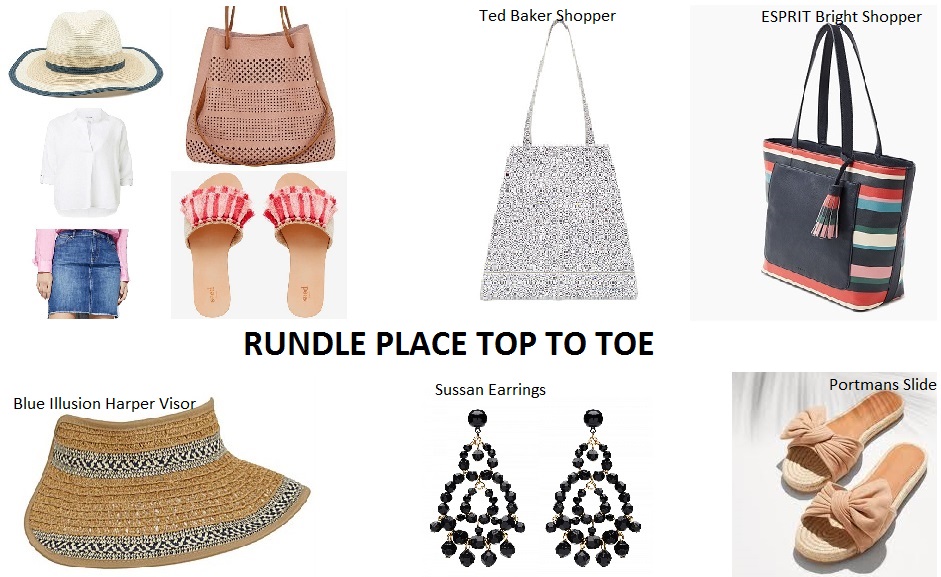 As we swim, suntan (and shop!!) our way through the Summer months, there are plenty of exciting new trends on the horizon - but equally important are the key staple styles to take your wardrobe from dead end to on trend in a flash!
From head to toe - Rundle Place has got you covered with the Summer Essentials you absolutely NEED in your wardrobe.
Hats
We know that changing your hat can immediately change your outfit - it's almost like experimenting with your personality!
A women can express herself in the way she dresses - and a different hat has the ability to transform a simple dress or shirt and shorts into an ensemble fit for a style icon.
The Paper Braid Sun Hat from Trenery is a modern take on the classic straw hat - colour blocked in fresh summery colours, and with a soft mid-sized brim, it is the perfect compliment for a new season printed summer dress, and can take your plain white tee and denim shorts to the next level.
One of our favourite's for transforming an outfit is the Harper Visor from Blue Illusion. The visor is a classic way to take an outfit from basic to beach chic - and the best bit? No chance of hat hair!
Bucket & Shopper Bags
The Bucket Bag is here to stay for 2018, and the casual-chic 'Shopper Bag' will be giving it some strong competition.
A few of our favourites include the new printed Shopper in the Ted Baker 'Colour by Numbers' collection - which comes in a versatile pebble print, and a super fun Bee print.
For some Summer fun, the Bright Stripe Shopper handbag from ESPRIT is a style statement for any outfit - we'd pair with a white tee and some denim shorts for the ultimatge 'casual cool' look.
We've seen the popularity of the Bucket Bag in recent months - they can't be beaten for the versatility and SPACE, you can just keep piling stuff in! One of our faves is the Madame Rachelle Bucket Bag from Blue Illusion - not only is it Vegan PU leather, it's the perfect Summer blush hue, and has beautiful cutout detail.
Statement Earrings
If you really want to elevate your outfit, an investment in statement earrings is a MUST! Whether it be bright tassels, big hoops, or lots of sparkle - if it catches your eye then it's a good idea. A long summer evening or a flowy white beach dress calls for coloured tassels from Serafina Boutique - and if you're looking for that wow factor for your next party or ball - the black chandelier beaded earrings from Sussan are sure to turn heads.
Denim Skirt/Denim Shorts
We LOVE the Denim Skirt. A classic staple - but one versatile enough for all ages and styles. Pair it with a white linen shirt or a beachy top and slides for the ultimate casual look, or pair with a blouse, tucked in with a belt and heels for work.
Denim skirts don't have to be short - Witchery's Indigo Denim pencil skirt is a classic look and slightly longer style, updated and refreshed with an on-trend, raw edge step hem.
We also LOVE the stretch in Trenery's Dark Denim Skirt - which makes for a flattering fit. This skirt is perfectly paired with a white tee, and the slightly darker style is the perfect change up from regular denim, and makes it an easy and comfortable warm weather skirt for every occasion.
Anything Linen
Our love for denim paired with a linen shirt, leads us into our love for Linen. A crisp white linen button up is naturally SEXY. Line is elegant, classic - and in the heat it actually allows you to breathe!
Witchery has a great range of white and neutral toned linen- button up shirts, t-shirts and even linen slouch pants and beach shorts.
And if you're a next level linen lover - Country Road have all of the above, AND Linen bed sheets. HEAVEN!
Slides
We saw the slides and loafers take over the shelves last summer and even into autumn/winter - this Summer take the slide trend even further, with a resurgence of the 90's thin strap slides. Oozing casual cool vibes and super easy to slip on and slide out the door to do some shopping or run some errands - pick a pair with pretty beading or embellishments for extra style points.
For laid-back summer vibes, we love the Portmans Side Bow slides in Taupe, and the simplicity of the Ruthie slides in caramel from Trenery.
For your extra style points - the vibrant tassles and beading detail on the Iris Fringe Slides from Seed will add the cherry on top of your relaxed summer looks!