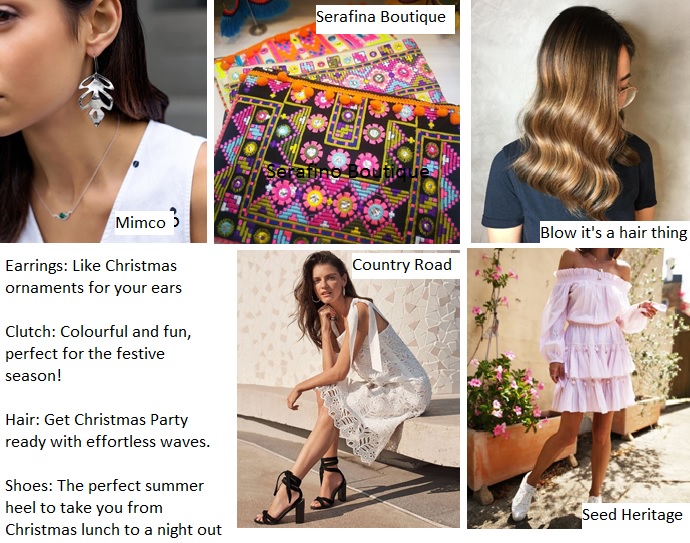 THE FINER THINGS
Tis' the Season...for parties, celebration and being with friends and family! But the serious side of Christmas are the parties, end of year parties, work parties, friend's parties, catch-up parties and just because parties!
FROM TOP TO TOE
With December already here, it's time to get serious about the wardrobe and give it a fresh update. Be bold this Christmas and add a totally new outfit from top to toe - that means the outfit, shoes, jewels, hair, bag and makeup! Or if you have a few killer items in your wardrobe already, add some key pieces to make sure you're look is fresh and you are ready for all the busy weeknights and weekends ahead.
Your clothes are obviously a big part of your style, but there are so many other elements too that you need to consider. Attention to detail can make all the difference to your outfit - consider your hair, shoes, accessories or the perfect bag!
FRESHEN UP YOUR WARDROBE
This December, Rundle Place is home to everything you need this party season. A new and fresh look may just need a killer pair of heels, or some stylish pieces for the ears - or freshen up a look with jewellery moments that create a vibe for the style of event or time that you are attending.
We have chosen some of our favourite fashion accessories to see you through the long days and nights of the festive season - keeping in mind that sometimes, you can be going from one event to another.
COLOURS MADE TO PARTY
Look to keep your palette similar, with a pop of texture and colour to mix it up. A similar colour palette means you can transition your looks from party to party. Create an elegant Christmas Day with the perfect summer dress, enjoy your community carols with something punchy and casual, or mix your wardrobe for your work luncheon with a casual yet dressy vibe.
We're officially set for the season of parties to begin - visit Rundle Place and make sure you have everything you need to see you through December!