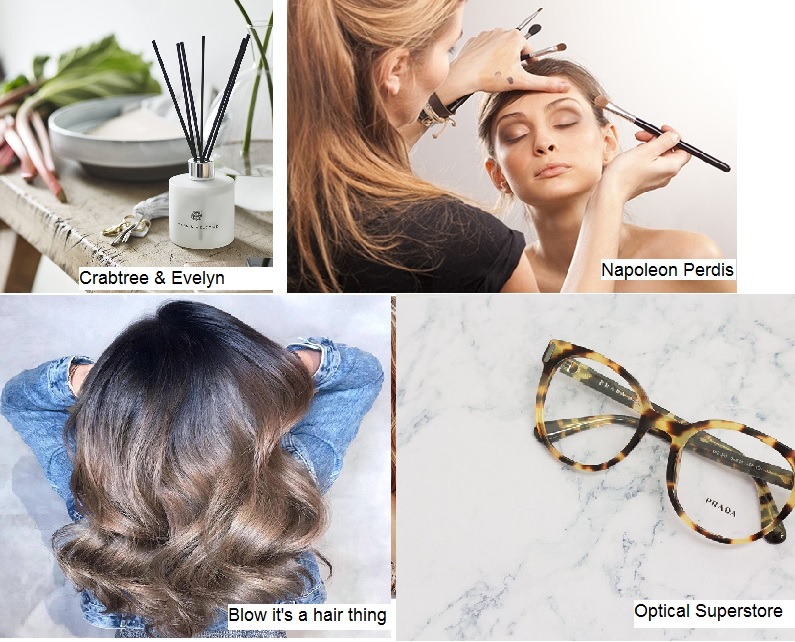 We all like to #GoToTown in Rundle Place for our wardrobes - but we also have all the services you need to complete the whole look with the often-forgotten cherry on the cake - your hair and beauty! All these services, are under one roof at Rundle Place!
We know that it takes more than just a style savvy outfit to create the perfect look - so we want to make sure you know it can all be done right here in centre! It's the smallest attention to detail, that we busy fashion forward people thing we can do ourselves - easier, cheaper and quicker. but the truth is that behind every great outfit is a great hairdresser, brow specialist or hair removalist!
Head to:
Crabtree & Evelyn
For that every day luxury in your life with natural skincare, soaps, shampoos and conditioners. They love skin and they create a rich and luxurious glow. It helps that they smell so damn good! Crabtree & Evelyn embrace the riches of the natural world, and carry product ranges made with fruit, flower and plant essences - it means you can transform the ordinary rituals of your everyday life into extraordinary pampering routines.
Blow it's a hair thing and Just Cuts
If great hair is your thing (let's be honest - it should be!) and you need it looking fine, then these guys are the hair masters that you need in your life.
Blow it's a hair thing are the experts in colour; whether you're looking for a little colour, full head or just highlights, or even want to be a little daring - the experts are on hand to talk through this process with you - and as the winner of the 2016 South Australian Salon Business of The Year we don't doubt their experience or advice!
At Just Cuts, no haircut is too big or small, and they cater for men, women and children of any age. And with no need to make an appointment, you can just drop in whenever you need!
Napoleon Perdis
Confidence is your secret weapon to success - and it's hard to not be confident when your best features are accentuated, and your makeup is skilfully applied by the artists at Napoleon Perids. Let's be honest. Your makeup is not something you would have something you would have someone do for you all the time, if at all - but why NOT!? Have you seen what these artist can do - they see your best features, accentuate, highlight, make bold, create a subtle hue, glow, glisten, to make you look incredibleeeee!
Get your makeup done in the heart of the city, get some tutorials from your makeup expert while it's being done and stock up on new, fresh makeup. For this Summer, our tip is a great highlighter to make yourself shine.
Pretty Eyes Threading Bar
If you've never had your brows threaded - get on board! Your brows can shape your whole face - and good brows complete your look! Tidy up those little strays, create more of an arch, grow your thin eyebrows into luscious statements - your brows frame your everyday natural look - so professional care is an essential. Pretty Eyes uses the ancient art of threading which is one of the best ways to shape your eyebrows with perfect precision!
SILK Laser Clinic
SILK is Adelaide's premium laser and skin rejuvination clinic providing gold standard service in Laser Hair Removal, Cosmetic Injections and Skin Treatments. Whether traditional hair removal methods are just getting a little TOO much effort (we feel you!) or you're looking to have some procedures or treatments to ensure you look the way you feel - visit the SILK Laser team to look and feel your best.
Terry White Chemists
Once you step into Terry White, you will be overwhelmed with the range of products. Anything from tan to complete your outfit and pull of the 'bronze summer goddess' look, emergency lip balm or even some band aids to break in an AMAZING pair of new shoes. If you get distracted you could also walk out with hair moisturiser, a refreshing face mask, a cooling eye mask....
The Optical Superstore
Okay let's be honest here - it's quite hard to look the part of 'smoking hot fashionista' if you can't actually SEE yourself! The Optical Superstore provides a wide range of frames and lens types, and even contacts. Glasses shouldn't be a 5 year buy, with such great pricing and styles you can afford a few pairs. Try a statement colour for the summer - Taryn Brumfit does this so well. Be business focused with some elegant, conservative black frames, or go light and a bit dazzly for night time.
Healthy Life
Radiance begins from within - so be sure to nourish your body with health superfoods, supplements and natural, organic wholefoods from Healthy Life. If you are still a bit rundown from the Christmas season, kicking into the year of school runs, or still thinking yourself back to your holiday - you will probably be surprised that all of this can show in your skin, stomach, hair and eyes.
Everyday life, stress levels, exposure to the sun, sleeping patterns... If any of these things tick a box, go and speak to the team who will be able to talk you through all the options and what the products can do to help you move into a strong and energised 2018.